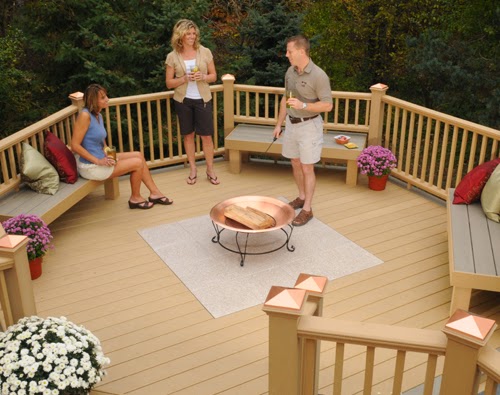 When it comes to home, there's no such thing as too much comfort. Even though summer has arrived and you may be tempted to spend your time outside, there's nothing wrong with doing so. Instead of spending all of your hard-earned money going to different establishments to relax and chill at, you should renovate your backyard so that you can create the perfect outdoor space.
It doesn't matter if you already have a small patio area out back or not. If you're not using it, you should ask yourself why. Is it because you do not like the way it looks? Does the area lack space and function? Maybe you are not too sure about how you should use it. As a property owner, you have the right and perfect opportunity to redesign your living space when you feel that it is not serving a purpose. It doesn't matter how long you've stayed at your place, you should always take the time to make improvements to your home so that you are always in love with it.
Give Your Outdoor Space a Face Lift
Take a good look at your backyard. Think about how you want it to look. Ask yourself what needs to be done to bring your vision to life. Maybe you only need to have a little work done to create the perfect outdoor space. For example, if you already have a patio area with a furniture set, maybe it's time for you to change up the color. Don't match everything up so that it is all the same color. Instead, consider using different colors. Accent pieces can really give a bland outdoor space some vibrancy, excitement and a whole new personality.
Decks and More
If you don't already own a deck, don't you think it's time for you to get one. Decks make great additions to any backyard space because they add more style, function and appeal. Not only do they allow you to give your outdoor space a more polished look, you can also use it to create the perfect backyard escape on any type of budget. Because you have so many options to consider with decks, it is important for you to carefully select your materials.
Decks can be made from a variety of materials. Some materials cost more than others, but may not offer you as much function or durability as you may like. Also, the design of your deck can affect your costs. Make sure you research your options, create a reasonable budget and add some cushion room to offset any unexpected surprises.
Use Your Household Furnishings
As you try to imagine what kind of furnishings and accent pieces you should buy for your outdoor space, don't forget to think about the items you have inside of your home. Chances are your outdoor space is only going to be used heavily for a season or two. If you've got extra furnishings in your home that are not really being used, then why not use them outside. For example, if you've got an old chest just taking up space, you can use that chest as an outdoor table. You can then create the rest of the scene using decorations, furnishings and other pieces to give more purpose and style to your chest/table.
Sometimes you may need the expertise of professional builders to know which path you should take when renovating your outdoor living space. As long as you have an inkling of what you want your results to be, a good team of contractors can make recommendations and help you to decide what improvements are best to give you the space that you want.
For more information on outdoor space ideas, feel free to contact American Renovation Services at (615) 356-6662.